DriveSavers Offers Data Recovery Relief to Flood Victims in Joso, Japan
Recovery experts extend $500 off services to aid those affected by the recent floods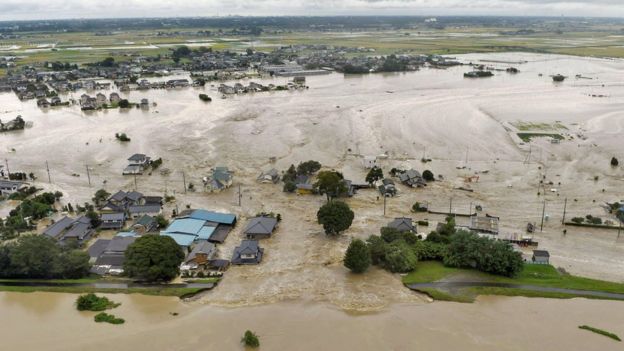 (NOVATO, Calif. Sept. 15, 2015) – DriveSavers, the worldwide leader in data recovery and digital forensic services, announced today data recovery assistance to victims of the massive flooding in Joso, Japan, a city just north of Tokyo. Parts of the city were washed away this past Thursday when a levee on the Kinugawa river broke, flooding the community of 65,000 residents. Although floodwaters are now receding, thousands of residents from Joso and surrounding areas remain in evacuation shelters.
The flooding resulted after Tropical Storm Etau dumped more than two feet of water in towns and villages on Monday. The storm left at least 27 injured. Rescue operations continue for victims stranded on rooftops and homes in Joso, one of the worst hit areas.
"As victims begin to return home after forced evacuations, we would like to extend our services to assist where we can in recovering lost data from damaged computer storage and mobile devices," said DriveSavers President Scott Moyer. "DriveSavers has nearly 30 years of experience in securely retrieving photos, financial records, videos, tax documents, contact lists and other critical information stored on all kinds of storage devices."
"We are honored to partner with DriveSavers to help the Japanese people salvage any data from hard drives that were destroyed from rising waters. We want to recover the data for as many people as possible with the technical cooperation of DriveSavers, who has the best techniques, the best facilities and extensive experience," said Tetsuo Hiraoka, President and CEO of PC KIDS CO., LTD.
From now through November 15, 2015, DriveSavers is offering a $500 discount on data recovery services for hard drives, RAIDs, smartphones and other data storage devices damaged by floodwaters, mud or impact. To start the data recovery process, call PC KIDS at 011-81-3-3599-3591 from the U.S. or 0120-56-2982 from Japan. To contact DriveSavers directly: dial toll-free 00-539-111-888-440-2404.