SF Gate Remembers Scott Gaidano as Savvy Consumer and Early Adopter
Originally published by SF Gate.
Posher, sleeker 2019 Lexus ES will have Apple CarPlay, Amazon Alexa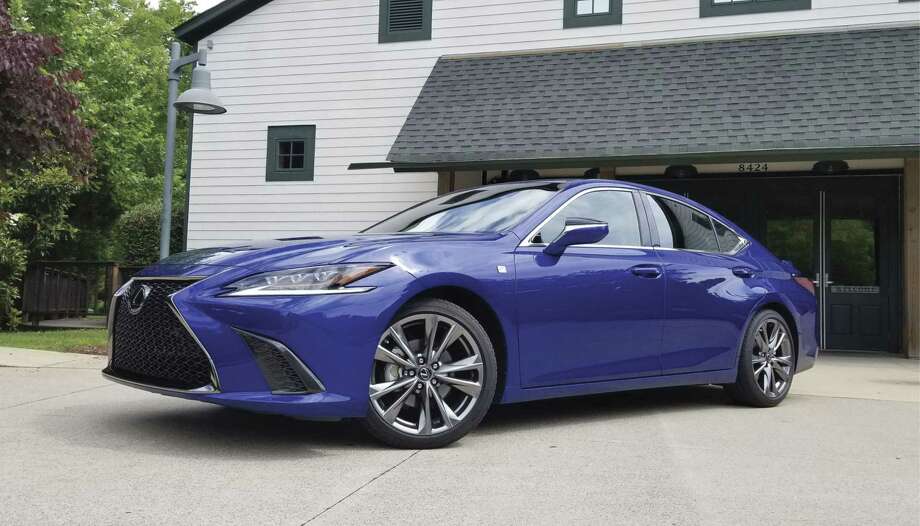 The year was 1989. Sedans were king. "Game changer" hadn't yet become a colossal cliché.
But transforming the luxury car business was exactly what Toyota pulled off nearly three decades ago by launching its upstart Lexus division. At the tip of the spear: the first ES and LS sedans.
More than a few industry observers and German luxury auto manufacturers scoffed.
The laughs didn't last long, thanks to savvy consumers/early adopters like Scott Gaidano.
An entrepreneur and co-founder of DriveSavers, a pioneering data recovery service, Gaidano was also a passionate and fun-loving car guy. When we sat down at his office northern California office in 1990, Gaidano had a Mercedes-Benz S-Class and an EV1 electric vehicle he didn't want to surrender to General Motors. But the car he kept gushing about was his 1990 Lexus LS 400. Whether it's a hard drive or a luxury automobile, quality and mean-time-to-failure were crucial to the personable executive and Gaidano was certain that the Lexus experiment was here to stay.
Gaidano passed away too soon in 2013 but not before he was proven right. And there's little doubt he would have been all over the tech offered with the seventh-generation 2019 ES, which gets Apple CarPlay and Amazon Alexa compatibility once the full ES line rolls out.
Engineering
The front-wheel-drive ES is built on a new, stronger architecture that's similar to the chassis used in Toyota's 2018 Camry and 2019 Avalon.
The 2019 Lexus ES gets a new multi-link rear suspension, new bracing behind the rear seat, electric power steering is moved to the rack and occupants sit lower and further back, lowering the center of gravity and help improve stability and steering accuracy.
The ES and LS generated waves of accolades with their refinement and manners and over the years it's been a case of not fixing what isn't broken. But as competitors took heed and raised the sophistication of their sedans, the ES took its share of knocks from drivers who wanted more dynamic handling.
Keiichi Yoneda, chief engineer of the GA-K platform used by the new ES, set out to deliver more confidence and fun to the drivers of Lexus' bread-and-butter sedan.
Yoneda's team's next-generation improvement plan included new shock absorbers and bushings, front stabilizer bar arrangement, and rear-trailing arms positioned higher to cut floatiness on braking. New "dynamic control shocks" adjust to conditions and reduce jarring of passengers' heads.
You'll be able to compare both generations "in the metal" this fall, but it shouldn't be too big a surprise that the 2019 ES has grown. Compared to the outgoing 2018 ES, the 2019 is 2.6 inches longer, 0.2 inches lower and 1.8 inches wider.
In fact, the 195.9-inch long 2019 ES specs out closer to the 1990 Lexus LS 400 flagship than the first ES 250. The 2019 ES 350's 113.0-inch wheelbase is 2.2 inches longer than the original LS, at 73.4 inches is 1.7 inches wider and weighs 3,649 pounds, 110 pounds more than the V8-powered LS. Bumper-to-bumper, the 1990 LS is a scant 0.8 inches longer than the 2019 ES.
Rated at 302 horsepower, the V6-powered ES 350 is armed with 52 more horsepower, seven foot-pounds more torque and twice as many forward gear ratios than the first-generation LS 400 of yore.
Lexus says the new ES will run 0-60 mph in 6.6 seconds compared to 7.1 seconds for the outgoing sedan. Top speed is electronically reined in at 131 mph.
The fourth-generation hybrid powertrain in the 2019 ES 300h delivers 215 total horsepower — 176 from its 2.5-liter inline four, 14:1 compression ratio gas engine and 39 from its 29.1 kW battery powered motor. A smaller, lighter battery, power control unit and electric motor save weight and space and the nickel-metal hydride (Ni-MH) battery is under the rear seat, giving the hybrid the same 16.7 cu. ft. trunk space as the gas ES. (All ES models, however, lose the fold-down rear seat thanks to the added bracing.)
According to the manufacturer, the 300h sprints to 60 mph in 8.1 seconds and is all done at 112 mph.
Lexus designers wanted a "fast" roofline and more aggressive stance. The hood is lower and the body is tweaked for better aerodynamics. Features like a full underbelly cover and wheel spats help reduce noise while enhancing fuel efficiency. The ES 350 hybrid and F Sport both come with a rear spoiler that helps the 2019 achieve a 0.26 coefficient of drag.
The new ES incorporates snazzy headlamps and taillights thanks to modern manufacturing capabilities and flexibility of LED technology. As an alternative to the standard LED low and high beams, there's an optional adaptive front lighting system that incorporates triple-beam lights.
Starting around December, all ES versions should have standard AppleCar Play and Amazon Alexa. Lexus says about 80 percent of the initial 2019 cars to reach dealers will come with the optional navigation and the larger 12.3-inch screen and CarPlay. But cars without navigation won't have CarPlay built in until late in the year. At the start, Amazon Alexa will only work with Android devices but iPhone compatibility is promised. There's no Android Auto, at least for now. Lexus says it feels its own open-source platform delivers a similar experience.
In addition to the voice-recognition, Bluetooth hands-free calling and media streaming, the 2019 Lexus ES will have a 10-speaker stereo designed for the ES that Lexus says delivers CD-quality sound from those compressed MP3. (And, yes, there's still a CD player.) The receiver comes with a 90-day complimentary trial to SiriusXM satellite radio. There are three USB ports if you'd rather plug in your own playlists.
Lexus' standard, comprehensive suite of safety and driver assistance technology is a compelling competitive advantage (high-speed dynamic radar cruise control with road sign assist, lane-departure alert and lane departure/steering assist, just to name a few), but there's also a 10-year complimentary subscription to Lexus safety and service telematics that includes roadside assistance, automatic collision notification and vehicle health reports.
All ES models will have power sunroofs, 10-way power seats (F Sports get sport seats with more aggressive bolstering), smart key with pushbutton start and 7-inch LCD driver information panel (F Sports get 8-inch screens). Besides leather seating and trim, nothing says "upscale" like soft illumination and the 2019 ES glows on that front with outside puddle lamps and coverage of the front and rear seats, driver and front-passenger foot wells and the start button.
In addition to three tiered option packages, stand-alone extras include head-up display, panoramic sunroof, power rear sunshade, hands-free trunk opener, wood-trimmed steering wheel, navigation with the larger 12.3-inch color display and audiophile-grade Mark Levinson stereo.
We sampled pre-production examples of all three 2019 ES models. Lexus is banking on the new F Sport winning over new, younger customers and the tighter suspension and more deeply bolstered seats (we wish Lexus would make them optional in the other trims) made the driving enjoyable.
However, we were more switched on by the hybrid ES. Not only did we see 44 mpg indicated on the dash — 20 mpg more than the V6 models — the ES 300h was whisper quiet once cruising. Lexus added all sorts of extra insulation, including a special firewall layer, to address the whine that many first-timers to Toyota/Lexus hybrids think may be a police or fire vehicle approaching from a distance. The only sour note was during acceleration. That four cylinder's exhaust note is not a happy sound.
With its added horsepower and the electric motor, the ES 300h's performance is more than adequate but we can't help thinking a little exhaust tuning would have hybrid sales ringing.
The Alexa feature, on the other hand, was sweet. It requires a compatible device and installed apps, but once dialed in, it was far easier to say, "Alexa, play Adele" and have tunes piped in hands-free than fuss with the cumbersome and distracting native infotainment interface.
As elegance evolves, there's also a practical side to the new ES capabilities: from their living room or hotel room, drivers can use their smartphones to have Alexa perform tasks like reporting how much fuel remains in the ES tank.
Read more: https://www.sfgate.com/cars/article/Posher-sleeker-2019-Lexus-ES-will-have-Apple-12998441.php