MacRumors: Apple Seemingly Unable to Recover Data From 2018 MacBook Pro With Touch Bar When Logic Board Fails
Originally published by MacRumors.
In 2016, when Apple introduced the first MacBook Pro with Touch Bar models, the repair experts at iFixit discovered the notebooks have non-removable SSDs, soldered to the logic board, prompting concerns that data recovery would not be possible if the logic board failed. Fortunately, that wasn't the case.
Apple has a special tool for 2016 and 2017 models of the MacBook Pro with Touch Bar that allows Genius Bars and Apple Authorized Service Providers to recover user data when the logic board fails, but the SSD is still intact.
The tool is essentially a little black box that is able to transfer data from a failed logic board to a functioning MacBook Pro. The box has a flex cable that connects to a data recovery port on the failed logic board, while the box and a functioning MacBook Pro are connected via USB-C to USB-C cable.


Apple's internal Customer Data Migration Tool
Once the logic board is placed into a special holder, and all cables are connected, technicians simply power on the functioning MacBook Pro, open Migration Assistant, and proceed with the 
standard steps for data transfer
.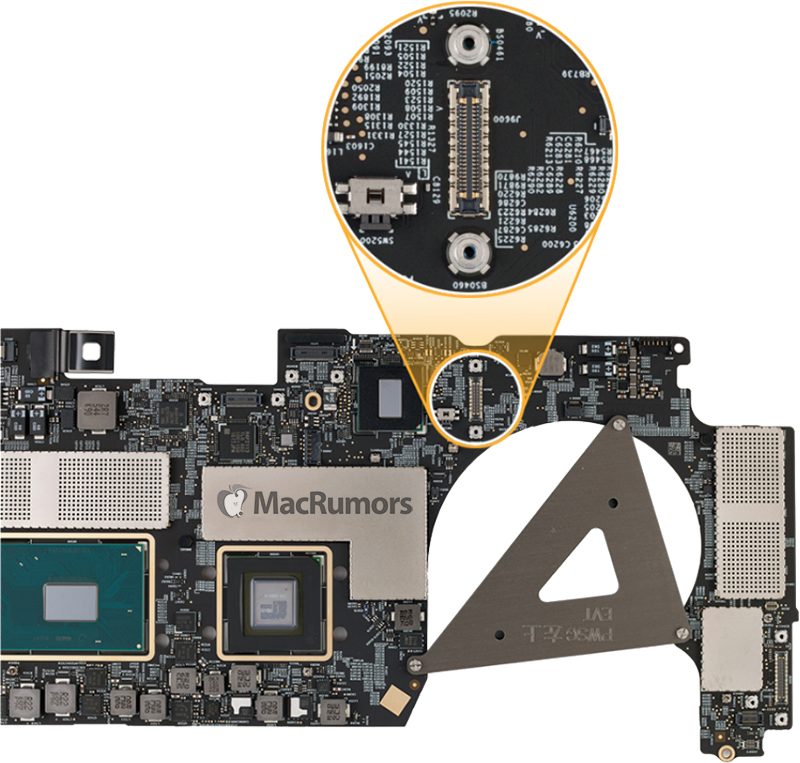 Customer Data Migration Tool connector on 2016 MacBook Pro logic board
While not fail-proof, the tool is a convenient, last-ditch option for data recovery when a MacBook Pro's logic board goes kaput. But, unfortunately, it appears the tool will not work with the latest models.
Last week, iFixit completed a teardown of the 2018 MacBook Pro, discovering that Apple has removed the data recovery connector from the logic board on both 13-inch and 15-inch models with the Touch Bar, suggesting that the Customer Data Migration Tool can no longer be connected.
MacRumors contacted multiple reliable sources at Apple Authorized Service Providers to learn more, and based on the information we obtained, it does appear that the tool is incompatible with 2018 MacBook Pro with Touch Bar models.
Multiple sources claim that data cannot be recovered if the logic board has failed on a 2018 MacBook Pro. If the notebook is still functioning, data can be transferred to another Mac by booting the system in Target Disk Mode, and using Migration Assistant, which is the standard process that relies on Thunderbolt 3 ports.
The data recovery port was likely removed because 2018 MacBook Pro models feature Apple's custom T2 chip, which provides hardware encryption for the SSD storage, like the iMac Pro, our sources said.
Apple's internal 2018 MacBook Pro Service Readiness Guide, obtained by MacRumors, advises technicians to encourage customers to back up to Time Machine frequently, and we highly recommend following this advice, as it now appears to be the only way to preserve your data in the rare event your MacBook Pro fails.
MacRumors also confirmed that Apple's internal document for its Customer Data Migration Tool has not been updated to reflect use with the 2018 MacBook Pro, and nothing else we've seen outlines any alternative solutions.
While it appears Apple itself is unable to recover data from failed 2018 MacBook Pros, the Service Readiness Guide does state that customers can consult with data recovery specialist companies, such as DriveSavers, Knoll, Seagate, and Payam, but it's unclear how they might be able to help.
Update: MacRumors has received the following statement from Mike Cobb, DriveSavers Director of Engineering:
None of the changes mentioned in the iFixit article regarding the MacBook Pro 2018 have had any affect our ability to recover data for our customers. This is due to our advanced capabilities in addressing the logic board. DriveSavers has been very successful in recovering data from the 2018 model as well as all others. It is worth noting that customers need to send us the whole device to complete the data recovery service.
We've reached out to Apple for clarification. If we receive any information, we'll update this article accordingly.
Read more: https://www.macrumors.com/2018/07/22/2018-macbook-pro-lacks-data-recovery-port/